Cyner Industrial Co., Ltd. was founded in 1978 as an manufacture of Gear, shaft, and various transmission parts for automobile, motorcycle, electric cart parts, tractor and machinery parts . As a reliable supplier for several major OEM factories in the golbal market, including, USA, Europe, middle East, and Asia. Cyner is not only an OEM manufacturer also can help customer to develop and research their superior product with new design. With our mature technical method in using CAD/CAM design, we are able to provide high precision and reliable products. including 250c.c. ~8,000c.c. Gasoline & desiel engine parts. With the ISO-9001 quality cerfication, Cyner will keep provide products with stable and reliable quality, punctual delivery, and reasonalbe prices, meeting customer's strict demand.
Main products:
Gears:Spur, sun, planetary, helical, timing, cam, crank, balance, forged, worm, bevel, ring, sprocket gears as well as gear racks. Shafts:Drive, main, count, hub, balance, spline, rotor shafts, idle gear, motor, oil pump parts and transmission assemblies. Specs: AGMA, DIN, JIS, BS, ISO; module: 0.8 ~8; Dp: 2~20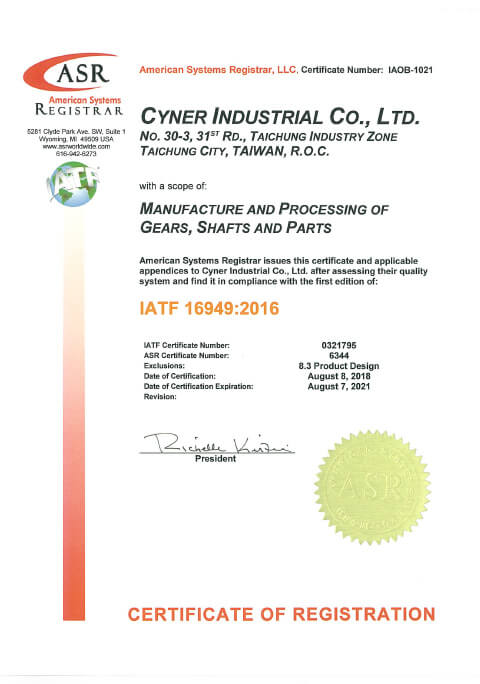 History of Cyner
1991.01

Import cyner first "5-Axle" cnc hobbing machine from japan to upgrade our technique and productivity.

1993.07

moved new factory toTaichung Industrial Park

1996.12

produce 500,000. Transmission gear sets export to mainland china.

1998.11

Garnered ISO9002 certifcation by S.G.S

2000.02

import 6 cnc turing machine. From O.C &GOODWAY

2000.09

establsih Gooding enterprice to develop sport equipment .

2003.03

produce the gear box for remote control golf cart

2004.05

add gear horning machine from Japan.mjor in deburring process.

2006.07

add a new cnc machine center (YMC) to develop our process capacity.

2008.03

add a new cnc (4-Axle) machine center to strong our process capacity.

2008.11

Garnered ISO9001 certifcation(2000 edition). By UKAS .

2009.07

add a new cnc "4-Axle" machine center (TONGTAI TMV-850A )

2011.11

Garnered ISO9001 recertifcation(2008 edition). By UKAS .

2016.01

Garnered ISO /TS 16949 recertifcation (2009 edition) . By ASR .